Thomas Ricks
July 10, 2023
Topic: First Principles: What America's Founders Learned from the Greeks and Romans and How That Shaped Our Country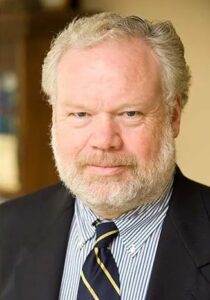 Thomas Ricks is an American journalist and author who specializes in the military and national security issues. Ricks covered the U.S. military for the Washington Post from 2000 through 2008. Until the end of 1999 he had the same beat at the Wall Street Journal, where he was a reporter for 17 years.
While at the Wall Street Journal, he was part of the team writing the "Price of Power" series discussing United States defense spending and potential changes confronting the US military following the Cold War. The series won the 2000 Pulitzer Prize for National Reporting. He won a second Pulitzer Prize for National Reporting as part of The Washington Post team for reporting about the beginnings of the U.S. counteroffensive against terrorism.
Ricks has reported on military activities in Somalia, Haiti, Korea, Bosnia, Kosovo, Macedonia, Kuwait, Turkey, Afghanistan, and Iraq. He previously wrote a blog for Foreign Policy called "The Best Defense" and he is a member of the Center for a New American Security, a defense policy think tank.
Ricks lectures widely to the military and is a member of Harvard University's Senior Advisory Council on the Project on U.S. Civil-Military Relations. Ricks is the author of several nonfiction books including Making the Corps (1997); the bestselling Fiasco: The American Military Adventure in Iraq (2006) and its follow-up, The Gamble: General David Petraeus and the American Military Adventure in Iraq, 2006–2008 (2009); the bestselling First Principles: What America's Founders Learned from the Greeks and Romans and How That Shaped Our Country (2020); and Waging a Good War: A Military History of the Civil Rights Movement, 1954-1968 (2022).
Born in Massachusetts, Ricks grew up in New York and Afghanistan and graduated from Yale in 1977.