Upcoming Speakers
Paul Bodnar
Monday, June 20, 2022
Topic: Climate Finance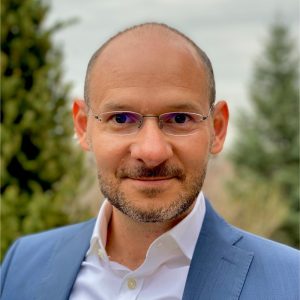 Paul Bodnar is Global Head of Sustainable Investing at BlackRock. His team drives BlackRock's leadership in sustainable investing through the development of cutting-edge climate and sustainability research and integration of these insights throughout BlackRock's suite of investment solutions and Aladdin.
Paul previously served as Chief Strategy Officer at RMI, where he founded the Center for Climate-Aligned Finance and helped launch the Climate Finance Access Network and Mission Possible Partnership. Paul served in the Obama White House as Special Assistant to the President and Senior Director for Energy and Climate Change at the National Security Council. He was a key architect of the Obama Administration's international climate policies culminating in the Paris Agreement.
Prior to that, Paul worked at the State Department as U.S. lead negotiator for climate finance and led the design of numerous initiatives including the Global Innovation Lab for Climate Finance and the U.S.-Africa Clean Energy Finance Initiative. Earlier in his career, Paul was Director for Carbon Finance at the $1.2 billion carbon fund managed by London-based Climate Change Capital, where he structured the fund's largest deals. He was also co-founder and partner at Vertis Environmental Finance, now one of Europe's leading environmental commodity brokerage firms. Paul holds a BA from Stanford and an MA from Harvard, both in international relations.
John Sopko
July 11, 2022
Topic: Afghanistan
John F. Sopko is the Special Inspector General for Afghanistan Reconstruction. Appointed to the position by President Obama in 2012, Sopko has more than 30 years of experience in oversight and investigations as a prosecutor, congressional counsel, and senior federal government advisor.
Prior to his Special Inspector General role, Sopko worked at Akin Gump Strauss Hauer & Feld LLP, an international law firm headquartered in Washington, D.C., where he had been a partner since 2009.
Sopko's government experience includes over 20 years on Capitol Hill, where he held key positions in both the Senate and House of Representatives. He served on the staffs of the House Committee on Energy and Commerce, the Select Committee on Homeland Security and the Senate Permanent Subcommittee on Investigations. Sopko also served as General Counsel and Chief Oversight Counsel for the House Select Committee on Homeland Security, where he focused on homeland security and counter-terrorism investigations and issues.
After his work in the Senate, Sopko was recruited by the Commerce Secretary to manage the department's response to multiple congressional, grand jury and press inquiries. While at the Commerce Department, Sopko was named Deputy Assistant Secretary for Enforcement for the Bureau of Export Administration, and Deputy Assistant Secretary for the National Telecommunications and Information Administration.
Previously, Sopko served as a state and federal prosecutor. As a trial attorney with the U.S. Department of Justice Organized Crime and Racketeering Section, he conducted numerous long-term grand jury investigations and prosecutions against organized crime groups. He was the lead attorney in the first successful federal RICO prosecution of the entire leadership structure of an American La Cosa Nostra crime family. In 1982, he received the Justice Department's Special Commendation Award for Outstanding Service to the Criminal Division and in 1980 he received the department's Special Achievement Award for Sustained Superior Performance.
Sopko began his professional career as a state prosecutor in Dayton, Ohio, with the Montgomery County prosecutor's office. He also served as an adjunct professor at American University's School of Justice, where he received the Outstanding Adjunct Faculty Teaching Award in 1984 and the Professor of the Year Award in 1986. He received his bachelor's degree from the University of Pennsylvania in 1974, and his law degree from Case Western University School of Law in 1977. He is a member of the bars of Ohio and the District of Columbia.
Admiral Michael Rogers
August 8, 2022
Topic: Russia-Ukraine: how did we get here and what does it portend for the future?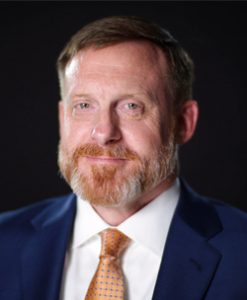 Admiral Michael Rogers retired from the U.S. Navy in 2018 after nearly 37 years of naval service rising to the rank of four-star admiral.  He culminated his career with a four-year tour as Commander, U.S. Cyber Command and Director, National Security Agency.  In those roles he worked with the leadership of the U.S. government, the DoD, and the U.S. Intelligence community as well as their international counterparts in the conduct of cyber and intelligence activity across the globe. He also assisted in the development of national and international policy with respect to cyber, intelligence and technology – including extensive work with corporate leadership in the Finance, IT, Telecommunications and Technology sectors.
During his broader service in uniform, ADM Rogers held positions afloat and ashore around the globe focusing on cyber, intelligence, maritime operations and national security.  His joint service was extensive including duty with the Chairman of the Joint Chiefs of Staff, the Joint Chiefs of Staff, U.S. Indo Pacific Command and U.S. Atlantic Command.  In addition, Admiral Rogers commanded at the unit, Numbered Fleet and service component levels in the Navy.
Admiral Rogers is a graduate of Auburn University and also holds a Masters of Science in National Security.  He is a distinguished graduate of the National War College and a graduate of highest distinction from the Naval War College.  He is also an MIT Seminar XXI fellow and a Harvard Senior Executive in National Security alum.
Admiral Rogers is currently supporting companies in the private sector, serving as a member of various Boards or acting as a Senior Advisor. He also speaks globally to various business and academic groups and is working internationally in the cyber and national security arenas.  He is a Senior Fellow and Adjunct Professor with Northwestern University's Kellogg School of Managements' Public Private Initiative and a member of the advisory board of Auburn University's McCrary Institute for Cyber and Critical Infrastructure.
Christopher Miller
September 12, 2022
Topic: Counterterrorism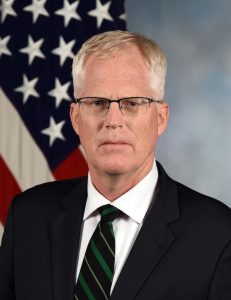 Christopher C. Miller served as the Acting Secretary of Defense from November 2020 to January 2021 and Director of the National Counterterrorism Center from August to November 2020. Earlier in 2020, Miller Performed the Duties of the Assistant Secretary of Defense for Special Operations/Low Intensity Conflict. He also previously served as the Deputy Assistant Secretary of Defense for Special Operations and Combating Terrorism.
Miller was responsible for overseeing the employment of special operations forces in counterterrorism, Military Information Support Operations, Information Operations, unconventional warfare, irregular warfare, direct action, special reconnaissance, foreign internal defense, counter proliferation, sensitive special operations, and personnel recovery and hostage issues as specified by the Secretary of Defense.
From March 2018 through December 2019, Miller served as the Special Assistant to the President and Senior Director for Counterterrorism and Transnational Threats at the National Security Council (NSC). In this position,  Miller was responsible for strategic level policy making and implementation, and support to senior NSC and White House leadership.
Miller was raised in Iowa City, Iowa and is a retired U.S. Army officer. He was commissioned as an Infantry officer in 1987 through R.O.T.C. with a BA in History from the George Washington University. Miller began his military career as an enlisted Infantryman in the Army Reserve in 1983 and also served in the District of Columbia National Guard as a Military Policeman. In 1993, he transferred to Special Forces and served in numerous command and staff positions within the 5th Special Forces Group (Airborne).
Throughout his career, he served within other special operations organizations, culminating with command of the 2nd Battalion, 5th Special Forces Group (A). Miller participated in the initial combat operations in Afghanistan in 2001 and Iraq in 2003, in addition to numerous follow-on deployments to both theaters, and has extensive inter-agency and joint special operations experience. Upon retirement from the Army in 2014, Miller worked for over two years as a defense contractor providing clandestine Special Operations and Intelligence expertise directly to the Under Secretaries of Defense for Intelligence and Policy.
Miller possesses a Master of Arts degree in National Security Studies from the Naval War College and is a graduate of the Naval College of Command and Staff and the Army War College.