Past Speakers
Senator Angus King
Friday, December 4, 2015
Topic: A Policy for the Arctic Region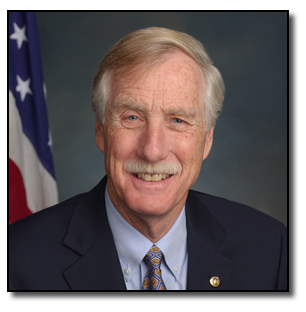 On January 3, 2013, Angus S. King, Jr. was sworn in as Maine's first Independent United States Senator.
Senator King joins a long line of independent leaders from the State of Maine. He is a steadfast believer in the need for greater bipartisan dialogue and relationship building among legislators.
Senator King began his career as a staff attorney for Pine Tree Legal Assistance in Skowhegan. In 1972, he served as chief counsel to U.S. Senate Subcommittee on Alcoholism and Narcotics in the office of former Maine Senator William Hathaway.
In 1975, he returned to Maine to practice with Smith, Loyd and King in Brunswick. In 1983, he was appointed Vice President of Swift River/Hafslund Company, an alternative energy development company working on hydro and biomass projects in Maine and New England. Six years later, he founded Northeast Energy Management, Inc., a developer of large-scale energy conservation initiatives at commercial and industrial facilities in Maine.
In 1994, Senator King was elected Maine's 72nd Governor. During his two terms in the Blaine House, he focused on economic development and job creation, and also achieved significant reforms in education, mental health services, land conservation, environmental protection, and the delivery of state services. He was re-elected in 1998 by one of the largest margins in Maine's history.
Senator King was born in Alexandria, VA in 1944. He graduated from Dartmouth College in 1966 and from University of Virginia Law School in 1969. Senator King is married to Mary Herman and has four sons, Angus III, Duncan, James, and Ben, one daughter, Molly, and six grandchildren. He lives in Brunswick.
Listen to this Presentation
Click on the play arrow below to listen to this presentation now. You may need to click twice on the arrow to start the audio.