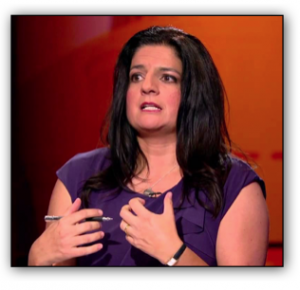 Indira Lakshmanan is a senior correspondent for Bloomberg News, covering U.S. foreign policy from Washington. She has traveled extensively with Secretary of State Hillary Clinton, and has interviewed Clinton several times for Bloomberg Television and Bloomberg Radio. From 2008-2010, she wrote a Page Two foreign affairs column for Bloomberg and the International Herald Tribune, the overseas edition of the New York Times.
Indira has reported from more than 50 countries in Asia, Latin America, the Middle East and Europe. For 12 years, she worked overseas as The Boston Globe's Asia Bureau Chief in Hong Kong and Shanghai, its Latin America Bureau Chief in Bogota, Colombia and a Bosnia War correspondent. She started her career on the foreign desk at National Public Radio in Washington, and lived in Chile, reporting for NPR during the transition from dictatorship to democracy.
Indira covered the fall of the Taliban and the Afghan War, the collapse of the Suharto regime in Indonesia, the death of Deng Xiaoping and economic and social change in China, the East Timor revolution, and the end of the Bosnia war. She has profiled sea pirates in Southeast Asia, Maoist rebels in Nepal, a matriarchal society in southern China, child miners in Bolivia, and Muslim radicals in Indonesia and the Philippines.
Indira joined Bloomberg in 2007 as a senior political correspondent, writing features during the 2008 presidential campaign, and traveling with the campaigns of Barack Obama, Hillary Clinton, John McCain and Mitt Romney.
Indira graduated magna cum laude from Harvard University, where she was a National Merit Scholar and a Radcliffe National Scholar. She attended Oxford University as a Rotary Scholar, and did graduate studies there in Latin American studies. In 2003, she was awarded a Nieman journalism fellowship at Harvard.