Past Speakers
Ken Hillas
Monday, December 1, 2014
Topic: How Russia Sees the World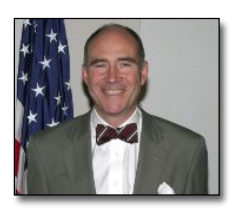 Ken Hillas, a Senior Foreign Service Officer,  is now Professor of Strategy at the National War College and a Senior Inspector at the Office of Inspector General (OIG) of the U.S. Department of State and the Broadcasting Board of Governors.  From March 2008 until June 2009, he led a 40-person, inter-agency Provincial Reconstruction Team in the south-central Iraqi Province of Babil.  He has served as Deputy Chief of Mission at both the U.S. Embassy in Warsaw, Poland (2005-2008) and the U.S. Embassy in Prague, Czech Republic (2002-2005).  He was in 2000-2001 the State Department's Deputy Special Negotiator for Eurasian Conflicts with an OSCE mandate to mediate the conflict between Armenia and Azerbaijan over Nagorno-Karabakh.  He has been a member of the Foreign Service for 30 years and has received several Superior Honor and Meritorious Honor Awards.
His foreign assignments have included Mexico, Russia, Italy and South Africa, as well as a short-term assignment in 1993-94 on the Bosnia Border Monitor Mission prior to the Dayton Accords-Serbian Border.  He speaks good Russian, Spanish and Italian, as well as fair Polish and Czech.
A graduate of the University of Maine (BA, 1976), Mr. Hillas received an MA in 1977 in International Relations from the University of Pennsylvania and an MS in 2000 in National Security Studies from the National War College.  He and his wife Barbara have been married 32 years and raised four children.
Listen to this Presentation
Click on the play arrow below to listen to this presentation now. You may need to click twice on the arrow to start the audio.