Meet our Next Speaker
Steven Pifer
December 5, 2022
Topic: Putin's War: Ramifications and Response
Steven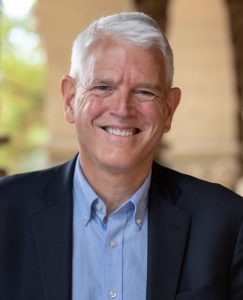 Pifer is an affiliate with Stanford University's Center for International Security and Cooperation as well as a non-resident senior fellow with the Brookings Institution. He was a William J. Perry Research Fellow at the center from 2018-2020 and a fellow at the Robert Bosch Academy in Berlin from January-May 2021.
Pifer's research focuses on nuclear arms control, Ukraine, Russia and European security. He has offered commentary on these issues on National Public Radio, PBS NewsHour, CNN, Fox News and BBC, and his articles have run in the New York Times, Washington Post, National Interest, Moscow Times and Kyiv Post, among others.  He is the author of "The Eagle and the Trident: U.S.-Ukraine Relations in Turbulent Times" (Brookings Institution Press, 2017), and co-author of "The Opportunity: Next Steps in Reducing Nuclear Arms" (Brookings Institution Press, 2012).
A retired Foreign Service officer, Pifer's more than 25 years with the State Department focused on U.S. relations with the former Soviet Union and Europe, as well as arms control and security issues.  He served as deputy assistant secretary of state in the Bureau of European and Eurasian Affairs with responsibilities for Russia and Ukraine (2001-2004), ambassador to Ukraine (1998-2000), and special assistant to the president and senior director for Russia, Ukraine and Eurasia on the National Security Council (1996-1997).  In addition to Ukraine, he served at the U.S. embassies in Warsaw, Moscow and London as well as with the U.S. delegation to the negotiation on intermediate-range nuclear forces in Geneva.  From 2000 to 2001, he was a visiting scholar at Stanford's Institute for International Studies, and he was a resident scholar at the Brookings Institution from 2008 to 2017.
Ambassador Pifer is a 1976 graduate of Stanford University with a bachelor's in economics.
Meetings open to members and members' guests only.  Unless otherwise noted, all meetings take place at Elk Hall, 210 Rankin Street in Rockland.  Please plan on arriving by 11:30 AM for noon meetings.  The speaker begins promptly at noon and lunch is served from 1 PM.
Audios of Past Presentations
Listed below are links to recent presentations. Click to listen:
For Would-be New Members:
It's pretty simple: just click here to display and fill out a Membership Form.
How to Contact Us
We can be contacted by email, mail, or phone:
The Mid-Coast Forum on Foreign Relations
PO Box 41
Rockport, ME 04856
207-236-8288