Meet our Next Speaker
Derek Mitchell
February 13, 2023
Topic: Democracy and International Security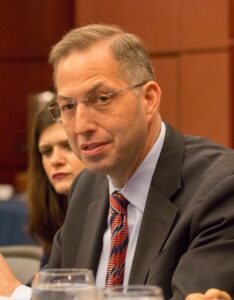 Derek Mitchell became president of the National Democratic Institute (NDI) in 2018, returning over two decades after he departed the Institute in 1997, at the conclusion of nearly four years as Senior Program Officer for Asia and the former Soviet Union.
Since that time, Mitchell has had a distinguished career in and out of the U.S. government, in which he has witnessed the connection between democracy and international security.
From 2012-2016, Mitchell served as U.S. Ambassador to the Republic of the Union of Myanmar (Burma). He was America's first ambassador to the country in 22 years. From 2011-12, he served as the U.S. Department of State's first Special Representative and Policy Coordinator for Burma, with the rank of ambassador.
Prior to this appointment, Mitchell served as Principal Deputy Assistant Secretary of Defense, Asian and Pacific Security Affairs (APSA), in the Office of the Secretary of Defense. In that capacity, he spent six months as acting APSA Assistant Secretary of Defense, and was responsible for overseeing the Defense Department's security policy in Northeast, Southeast, South, and Central Asia. For his service, he received the Office of the Secretary of Defense Award for Distinguished Public Service in August 2011.
From 2001 to 2009, Mitchell served as Senior Fellow and Director of the Asia Division of the International Security Program at the Center for Strategic and International Studies (CSIS). From 1997 to 2001, he served as Special Assistant for Asian and Pacific Affairs in the Office of the Secretary of Defense. Mitchell was the principal author of the Department of Defense's 1998 East Asia Strategy Report, the last such report produced by DoD.
Mitchell began his work in Washington as a foreign policy assistant in the office of Senator Edward M. Kennedy (D-MA) from 1986-88. Most recently, Mitchell has been a senior advisor at the Albright Stonebridge Group, the United States Institute of Peace, and the Center for Strategic and International Studies, as well as a lecturer for the Stanford-in-Washington program.
Mitchell has authored numerous books, articles, policy reports, and opinion pieces on international affairs. He is the coauthor of China: The Balance Sheet—What the World Needs to Know Now about the Emerging Superpower (2006), and China and the Developing World:  Beijing's Strategy for the 21st Century (2007).
Mitchell received a Master of Arts in Law and Diplomacy from the Fletcher School at Tufts University and a Bachelor's Degree from the University of Virginia. He was a visiting scholar at Peking University in 2007.  He speaks Mandarin Chinese proficiently.
His wife Min is a former television journalist. They live in Washington, D.C., with their beloved dog Bernie.
Meetings open to members and members' guests only.  Unless otherwise noted, all meetings take place at Elk Hall, 210 Rankin Street in Rockland.  Please plan on arriving by 11:30 AM for noon meetings.  The speaker begins promptly at noon and lunch is served from 1 PM.
Audios of Past Presentations
Listed below are links to recent presentations. Click to listen:
For Would-be New Members:
It's pretty simple: just click here to display and fill out a Membership Form.
How to Contact Us
We can be contacted by email, mail, or phone:
The Mid-Coast Forum on Foreign Relations
PO Box 41
Rockport, ME 04856
207-236-8288