Pamela Constable
October 10, 2022
Topic: Afghanistan under Taliban Rule Today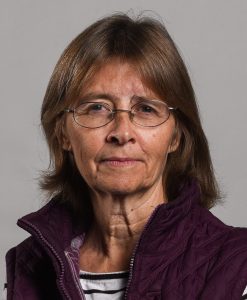 Pamela Constable is a staff writer for The Washington Post's foreign desk. As a Foreign correspondent, she covers Afghanistan, Pakistan, South Asia, Latin America and immigration. She completed a tour as Afghanistan/Pakistan bureau chief in 2019, and served as a South Asia bureau chief based in India from 1999 to 2005. She also reported from Iraq in 2004 and 2005. She previously covered immigration issues and immigrant communities while based in Washington for The Post.
Before joining The Post in 1994, Constable was a reporter, editor and foreign correspondent for the Boston Globe from 1982 to 1994, reporting mainly from Central and South America and the Caribbean. During this time, she was awarded the Maria Moors Cabot Prize from the Columbia University School of Journalism (1993) and the Alicia Patterson Foundation Fellowship (1990). She was a reporter for the Baltimore Sun from 1978 to 1982 and received a BA in American civilization from Brown University. 
Constable has authored Playing with Fire: Pakistan at War with Itself, A Nation of Enemies: Chile under Pinochet, and Fragments of Grace: My Search for Meaning in the Strife of South Asia. She has held writing fellowships at the Woodrow Wilson International Center for Scholars, the Alicia Patterson Foundation and the Pew Journalism Program at the Johns Hopkins School of Advanced International Studies. She is a member of the Council on Foreign Relations and president of the Afghan Stray Animal League. 
Constable has continued making regular reporting trips for the Washington Post to Afghanistan before and since the Taliban takeover. She recently returned from spending a month in Kabul and will offer her insights into life under Taliban rule since the chaotic U.S. exit. She will discuss the current situation and prospects for women and girls, the repercussions of the U.S. drone strike that killed Al Qaeda leader Ayman al-Zawahiri, the ongoing threats to security from ISIS-K, the role of Pakistan in the region, the dire economic and humanitarian needs confronting millions of Afghans, and the continuing internal differences within Taliban leadership and among its supporters that have challenged its ability to govern and exacerbated tensions with the international community. She will also speak about the current challenges and threats to the press in the US, including traditional newspapers like the Washington Post and Boston Globe, which are facing political pressure, economic losses and a sharp decline in public confidence. She will speak off the record.