Past Speakers
Sean McFate
Thursday, September 9, 2021
Topic: The Future of War

Dr. Sean McFate is a strategist and expert on international relations. He is a Senior Fellow at the Atlantic Council, a Washington DC think tank, and a professor at: Georgetown University's School of Foreign Service, Syracuse University's Maxwell School, and the National Defense University. He is an Advisor to Oxford University's Centre for Technology and Global Affairs.
McFate is one of the world's leading expert on mercenaries. He is a regular consultant to the Pentagon, CIA, and Hollywood, and has appeared on all major news networks.
His career began as a paratrooper and officer in the U.S. Army's 82nd Airborne Division. He served under Stan McChrystal and David Petraeus, and graduated from elite training programs, such as Jungle Warfare School in Panama. He was also a Jump Master.
McFate then became a private military contractor and paramilitary. Among his many experiences, he dealt with African warlords, raised armies for U.S. interest, rode with armed groups in the Sahara, conducted strategic reconnaissance for the extractive industry, transacted arms deals in Eastern Europe, and helped prevent an impending genocide in central Africa.
In the world of international business, McFate was a Vice President at TD International, a boutique political risk consulting firm with offices in Washington, Houston, Singapore and Zurich. Additionally, he was a program manager at DynCorp International, a consultant at BearingPoint (now Deloitte Consulting), and an associate at Booz Allen Hamilton.
McFate authored The New Rules of War: How America Can Win—Against Russia, China, and Other Threats (Morrow), hailed as the "The Freakonomics of modern warfare." It was named a "Book of the Year" by The Economist and is included on West Point's "Commandant's Reading List." Admiral Jim Stavridis, the former NATO Supreme Allied Commander, said: "Sean McFate is a new Sun Tzu." The book has been translated into several languages, and in the U.K is titled: Goliath: Why the West Doesn't Win Wars. And What We Need to Do About It (Penguin).
McFate also authored The Modern Mercenary: Private Armies and What They Mean for World Order (Oxford Univ Press), which Foreign
Affairs called "essential reading." McFate is also a successful novelist, and his fiction has been translated into multiple languages. The Tom Locke Series is based on his own military experiences, and #1 New York Times bestselling author James Patterson said: "Sean McFate just might be the next Tom Clancy, only I think he's even better." Additionally, he has written for the New York Times, Washington Post, The Atlantic, The Hill, The New Republic, Foreign Policy, Politico, Daily Beast, Vice Magazine, War on the Rocks, Military Review and African Affairs. He has appeared on CNN's Amanpour, Morning Joe, Fox and Friends, MSNBC, Fox, CBS, Sky News, NPR, BBC, WSJ, FT, Economist, Vice/HBO, The Discovery Channel, and The History Channel. As a scholar, he has published 18 academic articles, and two monographs for the U.S. Department of Defense.
At age 18, McFate backpacked around the world solo for a year with only $400, learning things they don't teach at school. McFate holds a BA from Brown University, MPP from the Harvard Kennedy School of Government, and a Ph.D. in international relations from the London School of Economics (LSE). He was also a Fellow at Oxford. McFate lives in Washington, DC. For more information, see http://www.seanmcfate.com
Stacia George
Monday, October 11, 2021
Topic: The Challenges of Deradicalization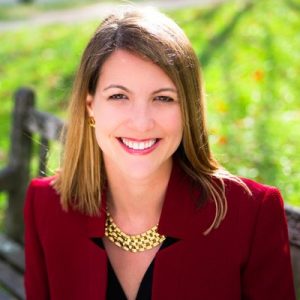 In 2021 Stacia George became director of the Conflict Resolution Program at the Carter Center.
She previously served as director for West and Central Africa and Haiti at Chemonics International Inc., a global implementer of international development assistance. George previously served as the deputy director for USAID's Office of Transition Initiatives (OTI) and is an expert in conflict management and international development with specializations in conflict-affected environments, stabilization, democracy, and community-driven development programming.
Earlier, George was a foreign policy fellow on the Africa Subcommittee of the U.S. Senate Foreign Relations Committee and was the practice director for government services at Caerus Associates. She held an International Affairs Fellowship from the Council on Foreign Relations in 2011.
During 11 years with USAID, George was country representative for programs in the Federally Administered Tribal Areas of Pakistan. She managed OTI's Afghanistan program as the deputy team leader for Asia and the Middle East, established programs in Colombia, Nepal, and Sudan, and served as country representative in the Democratic Republic of the Congo.
George holds degrees in international studies and Spanish from Niagara University and International Conflict Management and Economics from the Johns Hopkins School of Advanced and International Studies.