Meet our Next Speaker
John Harvey
Monday, April 24, 2017
Topic: U.S. Nuclear Forces: Decisions for the Trump Administration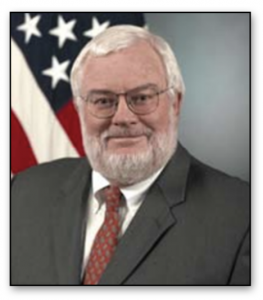 Dr. John R. Harvey is a physicist with over 35 years of experience working nuclear weapons and national security issues, first at Lawrence Livermore National Laboratory, then at Stanford University's Center for International Security and Arms Control and in senior positions in the Departments of Defense (twice) and Energy.  From 2009-2013, he served as Principal Deputy Assistant Secretary of Defense for Nuclear, Chemical, and Biological Defense Programs under then Undersecretary Ash Carter.  He was Dr. Carter's "go to" person for the 2010 Nuclear Posture Review, as well as for interactions with the Department of Energy on joint oversight of the U.S. nuclear weapons stockpile.  Dr. Harvey also provided oversight to DoD acquisition programs to sustain and modernize nuclear weapons delivery systems and systems for their command and control.  Since retiring in 2013, he consults for several organizations on many of these same issues.
Meetings open to members and members' guests only.  Unless otherwise noted, all meetings take place at Hedges Hall at Point Lookout.  Please plan on arriving by 11:30AM for noon meetings.  The speaker begins promptly at noon and lunch is served from 1PM.
Audios of Past Presentations
Listed below are links to past presentations. Click to listen:
For Would-be New Members:
Please click here to display and download a Membership Application Form.  It's an Acrobat "form" so you can type directly into it, then save and email it back to us at midcoastforum@gmail.com.  Alternately, you can print it, fill it out by hand and mail it to us at the address on the form.
How to Contact Us
We can be contacted by email, mail, or phone.
Mid-Coast Forum on Foreign Relations
PO Box 41
Rockport, ME 04856
207-236-8288