Meet our Next Speaker
Admiral James Stavridis (USN Ret)
Monday, August 24, 2020
Topic: 21st Century Security: Challenges and Opportunities
THIS MEETING HAS BEEN CANCELLED DUE TO THE COVID-19 PANDEMIC.
IT WILL BE RESCHEDULED FOR SUMMER 2021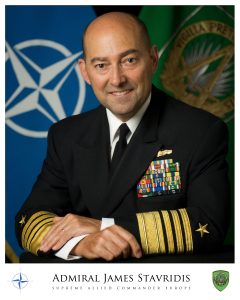 Admiral James Stavridis is an Operating Executive of The Carlyle Group, following five years as the 12th Dean of The Fletcher School of Law and Diplomacy at Tufts University.  A retired 4-star officer in the U.S. Navy, he led the NATO Alliance in global operations from 2009 to 2013 as Supreme Allied Commander with responsibility for Afghanistan, Libya, the Balkans, Syria, counter piracy, and cyber security.  He also served as Commander of U.S. Southern Command, with responsibility for all military operations in Latin America from 2006-2009.  He earned more than 50 medals, including 28 from foreign nations in his 37-year military career.
Earlier in his military career he commanded the top ship in the Atlantic Fleet, winning the Battenberg Cup, as well as a squadron of destroyers and a carrier strike group – all in combat.  In 2016, he was vetted for Vice President by Hillary Clinton and subsequently invited to Trump Tower to discuss a cabinet position in the Trump Administration.
Admiral Stavridis earned a PhD in international relations and has published nine books and hundreds of articles in leading journals around the world.  His 2012 TED talk on global security has over one million views.  Admiral Stavridis is a monthly columnist for TIME Magazine and Chief International Security Analyst for NBC News, and has tens of thousands of connections on the social networks.
Meetings open to members and members' guests only.  Unless otherwise noted, all meetings take place at Elk Hall, 210 Rankin Street in Rockland.  Please plan on arriving by 11:30 AM for noon meetings.  The speaker begins promptly at noon and lunch is served from 1 PM.
Audios of Past Presentations
Listed below are links to recent presentations. Click to listen:
For Would-be New Members:
Please click here to display and download a Membership Application Form.  It's an Acrobat "form" so you can type directly into it, then save and email it back to us at info@midcoastforum.org.  Alternately, you can print it, fill it out by hand and mail it to us at the address on the form.
How to Contact Us
We can be contacted by email, mail, or phone.
Mid-Coast Forum on Foreign Relations
PO Box 41
Rockport, ME 04856
207-236-8288