Meet our Next Speaker
Rania Abouzeid
Monday, September 22
Topic: The Arab Uprisings and Their Aftermath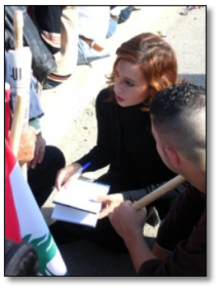 Rania Abouzeid is a Beirut-based journalist who has chronicled the Syrian uprising extensively since it began in 2011. Prior to that, she covered the revolutions in Tunisia and Egypt and has reported on wars, assassinations, and popular movements across the Middle East and South Asia over the past 14 years.
Rania's work has been published in TIME magazine, The New Yorker, Foreign Affairs, Foreign Policy, and a host of other outlets. She has also appeared as a commentator on PBS, Al Jazeera, the BBC, CBS, CBC, and other networks.
Unless otherwise noted, all meetings take place at Erickson Hall at Point Lookout.  Please plan on arriving by 11:30AM for noon meetings.  The speaker begins promptly at noon and lunch is served from 1PM.
A Few Audios of Past Presentations
Listed below are links to past presentations for which audios have recently been added. Click on the link to gain access:
For Would-be New Members:
Please click here to display and download a Membership Application Form.
For Additional Foreign Policy Events in the Midcoast Area . . .
Click to visit  The Camden Conference website.
How to Contact Us
We can be contacted by email, mail, or phone.
Mid-Coast Forum on Foreign Relations
PO Box 41
Rockport, ME 04856
207-236-8288