Andrew Bacevich
Thursday, July 29 at Noon (Baypoint Ballroom)
Topic: Washington Rules: America's Path to Permanent War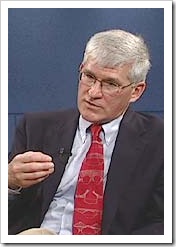 Andrew J. Bacevich is professor of history and international relations at Boston University. A graduate of the U. S. Military Academy, he received his Ph. D. in American diplomatic history from Princeton.
In 2004, Bacevich was a Berlin Prize Fellow at the American Academy in Berlin. He has also been a fellow of the Paul H. Nitze School of Advanced International Studies at Johns Hopkins University, the John F. Kennedy School of Government at Harvard University, and the Council on Foreign Relations in New York.
Bacevich is the author of  The New American Militarism: How Americans Are Seduced by War (2005) and The Limits of Power: The End of American Exceptionalism (2008), among other books, and his op-eds have appeared in the New York Times, Washington Post, Wall Street Journal, Financial Times, Boston Globe, Los Angeles Times, and USA Today.
"The bedrock assumption to which all of official Washington adheres, liberal Democrats no less than conservative Republicans, is that the United States itself constitutes the axis around which history turns. We define the future. Our actions determine its course. The world needs, expects, and yearns for America to lead, thereby ensuring the ultimate triumph of liberty. For the United States to shrink from its responsibility to lead is, at the very least, to put at risk the precarious stability to which humanity clings and in all likelihood would open the door to unspeakable catastrophe. Alternatives to American leadership simply do not exist.

"Reject these propositions and your chances of working in the White House, securing a cushy billet at some Washington think tank, or landing an invitation to pontificate on one of the Sunday-morning talk shows are reduced to just about zero."

– Andrew J. Bacevich  (from the January issue of The Boston Review)
Listen to this Presentation
Click on the play arrow below to listen to this presentation now. You may need to click twice on the arrow to start the audio.
Audio clip: Adobe Flash Player (version 9 or above) is required to play this audio clip. Download the latest version here. You also need to have JavaScript enabled in your browser.
If you prefer to download the MP3 audio file to your computer for later listening, click here (or right click then "Save Target As" or "Save Link As"). Please note that the downloadable file will be quite large and may take a long time to download depending on the speed of your connection to the internet.