Escape from North Korea: The Untold Story of Asia's Underground Railroad
Posted on Thursday July 19 2018
Superb reporting and storytelling about a modern-day underground railroad make Melanie Kirkpatrick's Escape from North Korea WORLD MAGAZINE's Book of the Year.  (Review by Marvin Olasky)
Deciding on our Book of the Year was not easy, but we're reporters and we eventually had to acclaim a great entrepreneurial reporting accomplishment: Our No. 1 is former Wall Street Journal editor Melanie Kirkpatrick's Escape from North Korea: The Untold Story of Asia's Underground Railroad. Kirkpatrick tells one of the most tragic but also heroic stories of our time, documenting the ways desperate North Koreans flee their country, with many dying in the process or ending up in concentration camps. She then shows how an "underground railroad" out of North Korea helps escapees survive in China, with Christian churches and homes providing most of the "depots."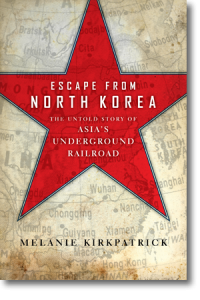 In the interview excerpted in WORLD's Nov. 17, 2012, issue, Kirkpatrick explained that North Korean escapees learn to "look for a
building with a cross on it." Chinese Christians are putting their own lives in jeopardy, because "it's against the law in China to help a North Korean—even giving somebody a meal is against the law." Kirkpatrick spoke of "Mary" and "Jim," a devout Korean-American couple from the Midwest. After successful careers and the graduation of their kids from college, they decided several years ago to devote the rest of their lives to helping people in China. Their church and the organization they work for, Crossing Borders, supported them, and today they run a string of orphanages in northeast China and a shelter for young women.
Escape from North Korea impressed our Books Issue committee of five WORLD journalists—Emily Belz, Janie Cheaney, Susan Olasky, Warren Smith, and myself. Emily called it a "well-written, untold story. If someone has little or no knowledge of North Korea and its history, she weaves that whole saga in so seamlessly." Janie also praised it, "especially in light of its spooky relevance right now," as North Korea flashes its nuclear weapons.
Warren called the book "journalism at its best, combining an important issue, meticulous reporting, and great storytelling." He pointed out that the Christian church has played a key role in fighting totalitarianism: "Solzhenitsyn documented the heroic behavior of Baptists and other Christians in the Soviet Gulags. The Roman Catholic Church played a key role in Poland's Solidarity movement." Christians today are similarly risking their lives, and Kirkpatrick documents that: Escape from North Koreadescribes "what we can pray will be the last great battle in this century-long war against totalitarianism."